100% NATURAL
What does this mean?
First of all Abaco Big Bird is fully independently owned family company. We grow, process, and package all of our chicken right here on the farm in Abaco. Our chickens are feed a corn and soy based diet especially formulated for Abaco Big Bird in close collaboration with nutritionists from another small family owned feed company in Florida.

---
Our chickens our cared for in large barn type houses that are climate controlled and cage free to protect them from weather extremes and predators. They are given access to food and water infused with neem (from natural springs in Abaco's pristine aquifer) to eat and drink at their pleasure. Our chicken is often process, packaged, and on the consumers plate in less than 24 hours even in Nassau. Giving families a great healthy fresh product to choose from versus imports that are shipped from all around the world. This also helps the environment with less greenhouse gases via reduced trucking and shipping.

Abaco Big Bird is just un-fooled around with chicken. Other brands add:
Seaweed
Salt
MSG
Broth
Water
Abaco Big Bird........45mg
French Fries.......149.1mg
Pumped chicken....362mg
*Sodium per serving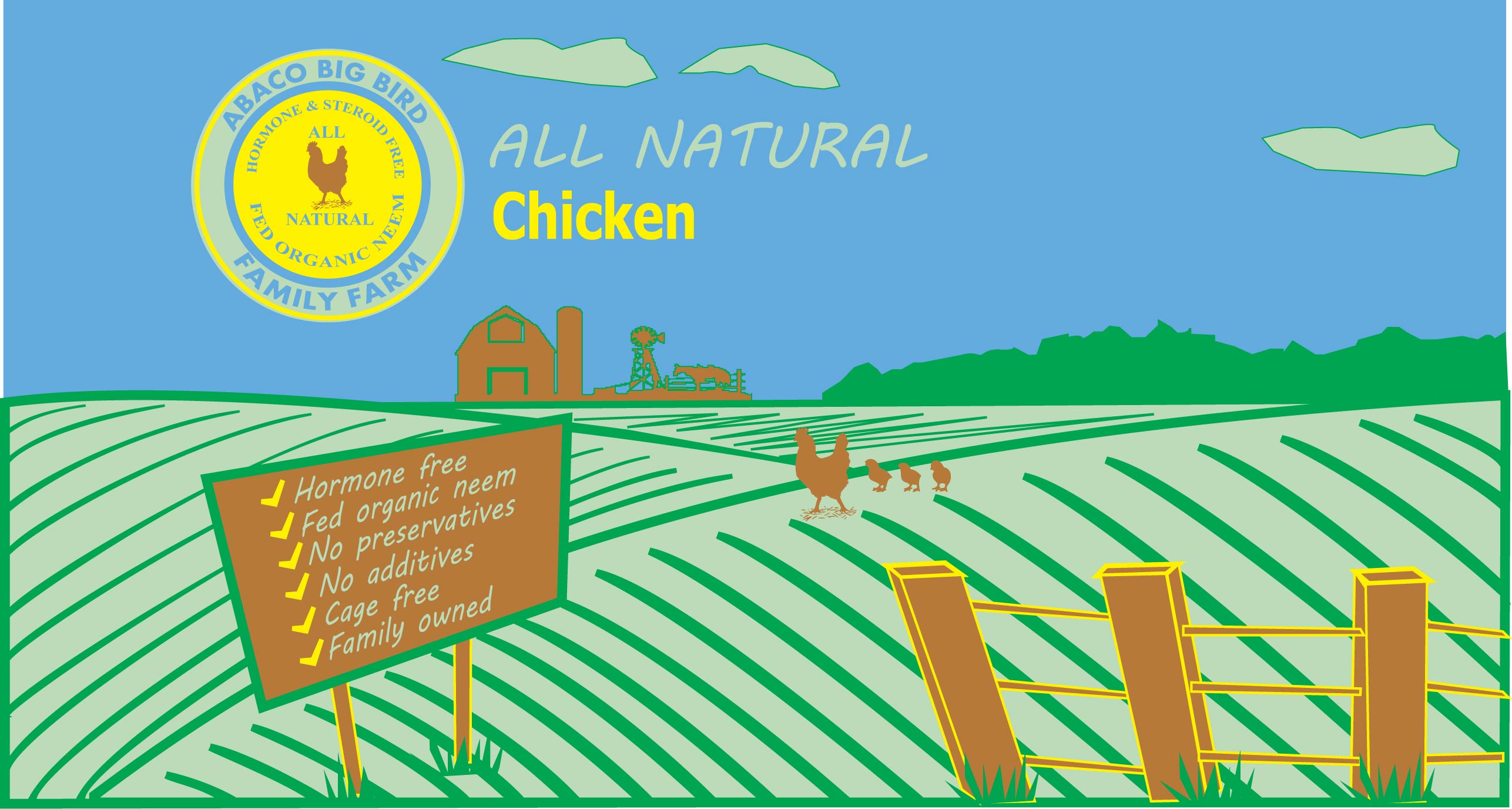 Pumping is when companies add extra ingredients listed above to chicken. They can add anywhere from 10-20% to a chicken. This impacts taste, texture, your wallet and your health! Just look at above slide showing the increase in sodium of pumped chicken. More sodium than fast food french fries!

---
Pumped Brand X hurts your pocketbook
Total.....................$9.56
Cost of additives......$1.43

4 lb chicken
Minus additives is only 3.4 lbs
That equals .36 cents more per lb for additives

Pumped Brand X hurts your health! High Blood pressure is rampant in the Bahamas and other health problems are associated with increased sodium intake.

Brand X has 8 times more salt than Abaco Big Bird.
Many chickens are processed using up to 5 baths of toxic chemicals before they are packaged. Not Abaco Big Bird.

Abaco Big Bird feels we have some of the healthiest best tasting chicken on the market today because we do not do any of the above mentioned things to our chicken ever!